Paris Hilton wears lingerie-style slip of a silk dress as she took to the street.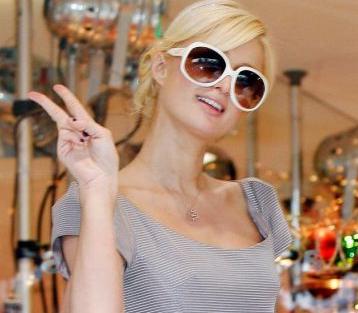 The hotel heiress wore the bizarre outfit, which was so short it left her matching blue tights exposed and barely covered her modesty, to meet her pregnant pal Nicole Richie for lunch in Los Angeles yesterday.
The 26-year-old socialite threw on a pair of shades, a chain, the tights and some shoes in an attempt to create a proper outfit. She was spotted having a lunch date with her former Simple Life co-star at 'Forte' restaurant in downtown Beverly Hills.
A rear view of the outfit shows Paris was saved from complete exposure by her opaque blue tights. You could see her dress here.
The aspiring actress and socialite recently co-hosted the Wizard Of Oz-themed baby shower for her friend at the Beverly Hills Hotel, along with Nicole's sister Sophia.
Comments
comments