Salma Hayek has personally released an official portrait photograph of Valentina Paloma Pinault, who was born on September 20, and confessed she is enjoying being a parent.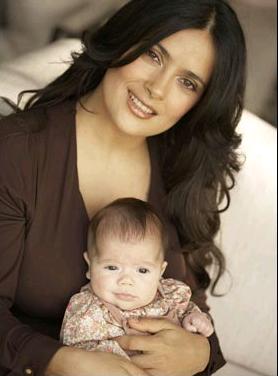 The 41-year-old actress revealed, "Motherhood is not for everyone. But it is for me."
The 'Ugly Betty' producer has followed in the footsteps of several other stars, including Tom Cruise and his wife Katie Holmes and Julia Roberts, by releasing an official picture of her new baby to avoid the paparazzi hype over securing the first picture.
Valentina is shown sitting on her mother's lap and already bears a striking resemblance to Mexican beauty Salma.
Her father is billionaire businessman Francois-Henri Pinault, head of the Gucci and Yves Saint Laurent fashion empire and PPR luxury brand.
Valentina is Salma's first child but 45-year-old Francois-Henri is rumored to be the father of supermodel Linda Evangelista's 13-month-old son Augustin, whose father has never publicly been revealed.
Comments
comments