Paris Hilton insists that Republican vice presidential nominee Sarah Palin should do voters a favor and not keep her former beauty-queen body covered up.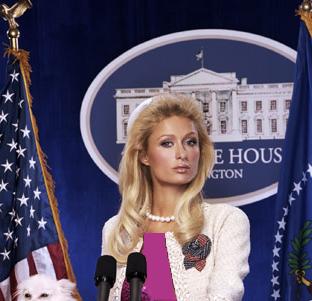 Perhaps the hotel heiress did not want to miss the celebrity political bandwagon, she even revealed in this month's Harper's Bazaar that Sarah Palin would be wise "not to keep her body to [herself]".
She got fashion advice for Sarah Palin, saying: "My advice to Sarah Palin is, you've got a hot bod; don't keep it to yourself. Why wear a pantsuit when you can wear a swimsuit? Welcome to the Lower 48, girlfriend."
In the Harper's interview, Paris also suggests her own would-be presidential campaign.
Her president plans: the hotel heiress pledge to support the American workforce by wearing only American designers: Calvin Klein between Memorial Day and Labor Day, Donna Karan the rest of the year.
Apparently, she would choose Rihanna as her running mate because the "Umbrella" singer is hot, and swap a cabinet for a walk-in closet full of advisers including designer Michael Kors, Madonna and astrophysicist Stephen Hawking.
This might all be a bit of piffle, but recent pictures of Paris in London do show the "Simple Life" star sporting a rather Palin-esque hairdo' and ensemble.
Comments
comments