Paris Hilton, who recently spotted with her buxom cleavage, found a new friend to spend in the beach with Adrian Grenier, an "Entourage" star, who joined her in Malibu last Thursday.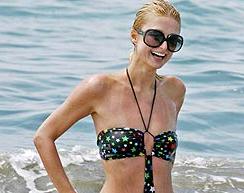 The socialite, who has spent her time with her new puppy, has continued enjoying her freedom. She appeared to have a spiritual enlightenment while she is relaxing at her Malibu beach house last Monday.
The "Stars Are Blind" singer was also spotted making waves in Maui during her post-jail weekend trip to Hawaii and coasting into shore on a surfboard. Since then, she's spent nearly every weekend at her Malibu beach house.
Comments
comments