Paris Hilton, who was sporting two different saucy outfits, led the Hollywood themed charity bash in the fancy Halloween costumes.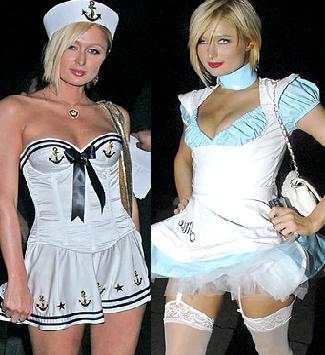 The first costume has a nautical theme. The socialite stepped out for a friend's fancy dress bash in Hollywood's Bel Air.
The hotel heiress, who showed plenty of her perma-tanned leg, was wearing a strapless corseted mini-dress decorated with anchors, topped off by a sailor's hat.
The second outfit has a bit of raunchiness when she adopted a demented Alice in Wonderland theme. She was wearing a white PVC mini-dress, with layered petticoats, suspenders and stockings. The outfit was matched with a pair of bizarre contact lenses. You could see the socialite revealed rather too much from behind in her demented Alice in Wonderland style costume here.
After getting in a row with an adult movie shop that was promoting her infamous homemade sex tape, Paris Hilton was letting her hair down after working on a film in Toronto all week as well as launching a new fragrance.
Comments
comments