Barron Hilton, who is Paris Hilton's 18-year-old younger brother, was arrested Tuesday morning on charges of driving under the influence and carrying a fake driver's license, authorities confirm.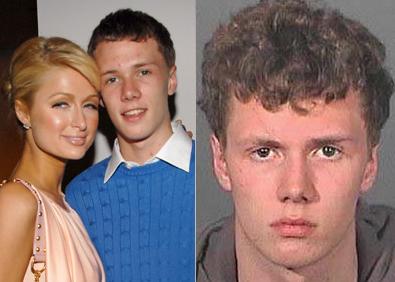 The younger Hilton was arrested at 8:04 a.m. after failing a field sobriety test, according to L. A. County sheriff's spokesman Steve Whitmore.
He spent all day in jail before his $20,000 bail was posted. His arraignment was set for April 14.
Barron Hilton was driving black Mercedes on Pacific Coast Highway in Malibu when another motorist observed him driving erratically, according to Whitmore. When Baron Hilton stopped, the other driver had him sit on bus bench until deputies arrived, Whitmore says.
Barron Hilton's blood-alcohol level was .14 percent, said Whitmore. The California legal limit for a person over 21 is .08 percent, but for a person under 21, any blood-alcohol level is considered legally drunk.
The DUI charge is a misdemeanor; the more serious charge is carrying a fake license, a felony.
Barron was booked at the Lost Hills sheriff's station. The Mercedes was impounded.
Rick Hilton, Barron's father, revealed in a statement, "I haven't been contacted yet by either my son or the police. If what I have heard is true, it is very disturbing and I will have a lot to say – but it will be to my son, not the media."
Paris Hilton famously served time in jail last year for violating probation in an alcohol-related driving case. Hilton was charged with DUI in September 2006.
UPDATE: Paris Hilton's 18 year brother, Barron, was freed at 5:50 PT on bail arranged by his friends. Both Paris and her parents, in whose house Barron stays, apparently declined to post the bail but a report claimed that Barron's friends arranged for the $20,000 bail amount using the services of a bail bondsman.
Comments
comments