Police have identified the body of a young boy discovered in an SUV in Chicago as Jennifer Hudson's missing nephew Julian King, police Supt. Jody Weis said Monday.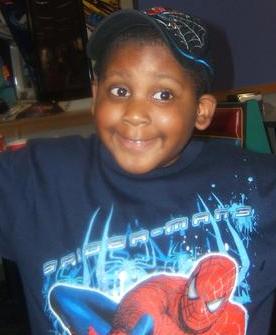 The body was discovered "in the rear seat" of a white Chevrolet Suburban on Chicago's West Side Monday morning, according to the Chicago Police Department. He suffered multiple gunshot wounds, according to reports.
Immediately following the news of the body's discovery, Jennifer Hudson's family members organized a church vigil. Several family members visited the medical examiner's office Monday afternoon.
King, 7, went missing Friday after an unidentified assailant fatally shot Hudson's mother Darnell and brother Jason. Over the weekend, Hudson offered $100,000 for the safe return of her nephew.
When police issued an Amber Alert for Julian on Friday, they identified a 1994 white Chevrolet Suburban with Illinois license plate X584859 as connected to the case.
The Chicago Police Department issued the following statement before noon Monday: "At approximately 7:06 A.M. a 1994 White Chevrolet Suburban bearing Illinois license plate X584859 and identified in the Amber Alert was located at 1313 S. Kolin. A body was discovered inside the Suburban, in the rear seat of the vehicle."
The report also suggested that bullet casings were found in the boy's room on Friday.
Meanwhile, Jennifer Hudson identified the body at the Cook County Medical Center. The "Dreamgirls" star was devastated when she learned that police discovered the body of her 7-year-old nephew.
Julian King had been missing since Jennifer Hudson's mother and brother were killed last week, and he has sadly now gone to be with them.
Comments
comments