Prince Harry has struck up a close friendship with the singer Natalie Imbruglia following his split from his long-term girlfriend Chelsy Davy.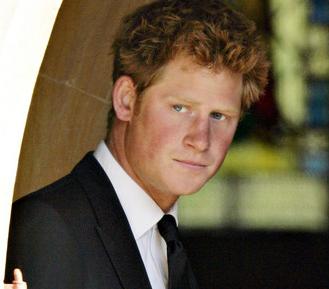 The 24-year-old prince is said to be in frequent text contact with the Australian star and was the guest of honour at her 34th birthday party at the Kensington Roof Gardens in West London two weeks ago.
The Prince slipped unnoticed into the fancy dress party in a surgeon's outfit and spent the night drinking and chatting with the stunning brunette, who split from her musician husband Daniel Johns last year.
It is understood that Prince Harry and Ms. Imbruglia were introduced through Sam Branson, the 23-year-old son of multi-millionaire Sir Richard, who owns the Kensington Roof Gardens, one of Prince Harry's favorite haunts.
Sources close to the Prince say he has been in regular contact with the singer, who in turn described Harry to a friend as 'sexy and very charming'.
One guest revealed on Sunday: "Natalie has met [Princes] William and Harry before because they have some mutual friends. She invited them to the Roof Gardens for her party and she was delighted when [Prince] Harry turned up. They had a great catch-up. Natalie thought [Prince] Harry's outfit was hilarious and they spent ages giggling together."
The guest continued: "Natalie's single at the moment. She's a totally gorgeous girl and very down to earth and lots of fun. It seems that Harry has joined her very long list of admirers. Natalie wasn't exactly avoiding his attentions. Harry was being very charming, which probably made her feel very fabulous and young."
The guest went on: "At one point she was in the ladies' loos with a girlfriend fixing her make-up. She said she thought Harry was sexy and very charming and kept asking her friend if she looked all right and if her bottom looked big, which of course it didn't. She is stunning."
The guest added: "It was as if she wanted to impress Harry and she was clearly chuffed to bits that he was there and had made such an effort to speak to her. She kept laughing about the fact that she had a Prince and a Princess at her party."
Princess Beatrice, who is Prince Harry's 20-year-old cousin, was also a guest. She was accompanied by her long-term boyfriend Dave Clark, who works for Branson's Galactic space project.
One source added that Harry and Natalie have been in regular contact by text since the party – and the Prince was seen beaming happily as he checked his phone messages at England's Six Nations rugby match against Italy the day after the bash.
The stunning former Neighbours star, who is said to be looking for a flat in Notting Hill, split from Daniel Johns, frontman in the band Silverchair, early last year. The couple had married on New Year's Eve, 2003, in Queensland and blamed their busy work schedules for the divorce.
A close friend of Natalie said yesterday: "She gets on very well with Harry but I don't think he's her type. She tends to go for rock musicians, not public schoolboys."
Prince Harry is still single following his split from Chelsy Davy last month. Chelsy called off their five-year relationship because of Harry's Army commitments.
The 23-year-old Zimbabwean, who is studying a postgraduate law degree at Leeds University, announced the news on her page on the Facebook social networking website by changing her status to single, which is said to have upset Harry. The couple have been in touch since the split but friends say Chelsy is 'playing hard to get'.
One friend said: "Harry wanted to see Chelsy on Valentine's Day but she is in no hurry to get back together."
Harry is said to be furious that Chelsy is planning a holiday with a group of friends who will include Bradley Kirkland, a crocodile hunter from South Africa who once described Harry as a 'wet fish'.
Friends say Bradley, who is known as 'Jabu', pursued Chelsy during the three years they were at university in Cape Town. A source revealed: "Harry's not at all happy that Chelsy is going away with Jabu. He has been texting Chelsy recently, telling her that she's not the only one who's attracting suitors and there are a lot of girls throwing themselves at him. At the end of the day, though, he truly loves Chels, so none of us is ruling out a reconciliation."
Despite their split, Chelsy plans to stay in Britain after her graduation this summer and will start a job with law firm Allen & Overy in September.
Last night, Clarence House declined to comment on Harry's relationship with Ms. Imbruglia.
Comments
comments