Prince Harry has reportedly told Army chiefs to send him to war. The 22-year-old prince is desperate to see frontline action this year.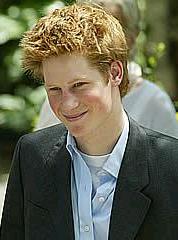 A source revealed, "Harry wants to fight in a war zone or be seconded to a NATO command unit sooner rather than later. When all his friends come back from serving in Iraq, he is going to be the odd one out."
Prince Harry is said to believe his career will be a "sham" if he isn't sent to war soon, and Army chiefs are trying to find a suitable role for him.
Meanwhile, Harry has reportedly joined one of the British Army's most feared units – the Gurkhas. He traveled to the Welsh Brecon Beacons to join the Royal Gurkha Rifles for a four-day training exercise over the weekend.
If Harry completes the grueling regime he will be presented with an honorary kukri, a knife used by the legendary fighters.
A source added, "To all intents and purposes he will be a Gurkha. Harry will be told that when the kukri leaves its sheath it can never be returned without blood being drawn."
The Gurkhas gained a reputation for their killing expertise and physical strength after British forces recruited them as allies to fight in India.
Comments
comments