Prince William gave his brother Prince Harry the shirt off his back for a royal painting. The 24-year-old old prince came to the rescue when Prince Harry discover his Army uniform had gone missing as he arrived for a sitting with painter Sergei Pavlenko at Buckingham Palace.
Prince Harry's uniform was an important piece of wardrobe as the painting was to commemorate his passing out from Sandhurst Military Academy.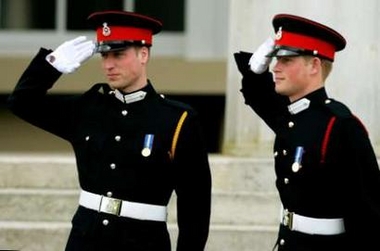 Sergei Pavlenko, a painter, revealed, "It was okay in the end, though. Fortunately Prince William was there that day and had his uniform. So [Prince] Harry wore that as I painted. The sleeves were a bit long, though!"
The artist also revealed the royal family was very happy with the finished product.
Prince William, Prince Charles, Queen Elizabeth II and Prince Philip and the Duchess of Cornwall are also featured in the painting.
The painter said, "They seemed very pleased. Prince Philip in particular was very happy. I always enjoy working with them. The boys were excellent, too, always laughing and joking around."
The painting will be included on show at the Royal Society of Portrait Painters' exhibition at London's Mall Galleries.