Prince Harry showed his compassionate side this week when he decided to keep his promise to continue helping the children of Lesotho. The younger son of Prince of Wales is going to be a patron of Dolen Cymru, which is the organization that promotes understanding between the people of Wales and Lesotho.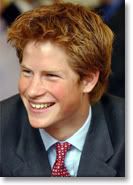 The 22-year-old prince was deeply concerned by his experiences in the Southern African state, where a third of adults are H.I.V. positive, Harry promised to return and to draw attention to the plight of AIDS orphans.
Through his patronage, Prince Harry would have a chance to renew his acquaintance with Mutsu, a four-year-old kid whom Prince Harry met and became fond of during a charity stint in 2004.
Prince Harry will also support two other charities: MapAction and WellChild. MapAction helps agencies in natural disasters while WellChild is an N.G.O. catering for poor British children.
Comments
comments