The paternity of Prince Harry has been called into question again, with the release of a new book about his tragic mother Princess Diana.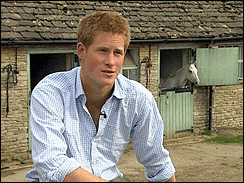 Christopher Anderson, the US author of 'After Diana: William, Harry, Charles and the Royal House of Windsor' released on June 6, claims Prince Harry's father was not Diana's husband Prince Charles, but her lover James Hewitt.
The author revealed that 22-year-old Harry's similarities with James, who had an affair with Diana in the 80s, are too strong to ignore. He said: "It's not just the physical resemblance – and I can pick out dozens of photos that show this – it's the peculiar expressions, the walk, the mannerisms."
The princess and James both denied rumors that he was Prince Harry's father, insisting they did not meet until two years after Harry was born in 1984.
Ingrid Seward, editor of Majesty magazine, has rubbished Anderson's claims. She was quoted by USA Today as saying: "It's such rubbish. It's so obvious when you see Harry. He is the spitting image of his grandfather Prince Philip. His close-set eyes are a Windsor trait. His red hair, that's very Spencer. It's ridiculous."
The book, which comes just weeks before the 10th anniversary of Diana's death this summer, is Anderson's third about the Princess.
Anderson also claims the young prince will eventually serve in Afghanistan, after Army bosses banned him from serving alongside his fellow soldiers in Iraq recently. The writer insists his book is an attempt to defend Diana's honor.
He added the princess, who died in a Paris car crash with her lover Dodi Al Fayed in 1997, has been portrayed as "scheming and neurotic". He said: "It's about her legacy and the new generation. For all her faults, and she had plenty, she was a pretty gutsy young woman."
Comments
comments