Prince Harry, who was dressed in diving gear, was smiling as he clearly reveling in his latest official duty.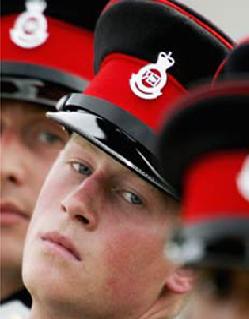 The 23-year-old prince joined a Horsea Island diving squadron in a training exercise as part of his first visit to a Naval base since becoming the Royal Navy's Commodore-in-Chief of small ships and diving.
The prince's Army training included a diving expedition off the shores of Cyprus. And after watching the Royal Navy pros perform a mock rescue in the tank, Harry eagerly took to the water to carry out a task of his own.
Wearing a dry suit, fins and personalized diving hood emblazoned with the word 'Wales' – in the Army he's known as Cornet Wales – the Prince plunged into the tank and set about successfully bolting together a pipe and valve.
His dive was just one of several Navy-oriented activities organized for the visit. Earlier in the day he learned how to safely detonate letter bombs, limpet mines and a WWII anti-submarine device, as well as taking to the controls of a bomb disposal vehicle.
Dan Archer, the Chief Petty Officer Diver, revealed, "He had a good sense of humor. You could see exactly what he was doing moving that bomb disposal vehicle around."
Comments
comments