Prince William has been accused of receiving 'special treatment' from the RAF after he was given permission to spend a week skiing in the French Alps.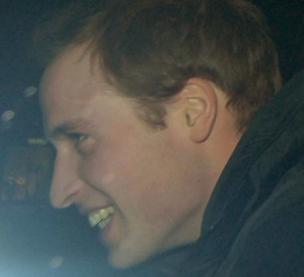 It was only in January that the 26-year-old prince started his course at the Defence Helicopter Flying School at RAF Shawbury in Shropshire.
Yet for the last six days he has been traversing the slopes of the famous Three Valleys with girlfriend Kate Middleton and staying in a luxury chalet.
Meanwhile, every other trainee pilot on his course has been hard at work, say sources at the base. 'It has caused a degree of consternation among some staff and students that he has been given time off at such an early stage in the course.'
Prince William and his 27-year-old girlfriend have enjoyed glorious sunshine on the slopes followed by nights out at restaurants and pizzerias.
He is due to fly back today with his Scotland Yard bodyguards in time to attend the Wales v Ireland rugby international in Cardiff as vice patron of the Welsh Rugby Union.
The prince's 16-month course is costing taxpayers £800,000.
Although he gets on well with his fellow students, his decision not to use his room in the officers' mess and stay in private accommodation in the grounds of a nearby stately home has caused comments.
The Ministry of Defence insisted, however, that the prince was not receiving any special treatment on the course. 'He is being treated like any other officer,' a spokesman said.
The official claimed that as William had already earned his RAF wings, the initial part of the course had been slightly different from that of the rest of his fellow students and, as a result, he had found himself at a loose end for two and a half weeks.
The officer said: "All RAF personnel, regardless of length of service and rank, are entitled to 30 days' annual leave. Sometimes there is a natural gap in the students' training so it makes sense, if requested, for an individual to take advantage of this period to take annual leave."
A senior royal source said: "Prince William has just finished his elementary flying training and is waiting to progress to intermediate level so he was given permission to take a short break. He will rejoin his squadron at the end of March."
Comments
comments