Brad Pitt is set to star in another tongue-twister of a movie after signing on for the adaptation of Leanne Shapton's book Important Artifacts and Personal Property From the Collection of Lenore Doolan and Harold Morris, Including Books, Street Fashion and Jewelry.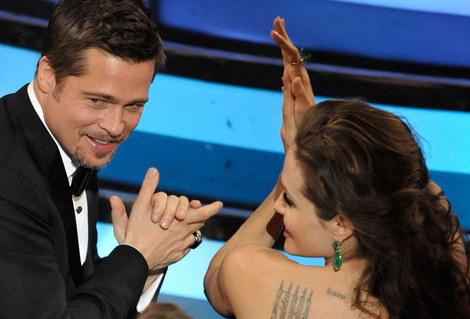 The actor seems to enjoy long titles after fronting The Assassination of Jesse James by the Coward Robert Ford and The Curious Case of Benjamin Button, which earned him an Oscar nomination. For Important Artifacts, he'll star alongside Natalie Portman.
Pitt and Portman will share producing duties on the project, according to Daily Variety. The actor will play fictitious photographer Hal Morris and Portman will take on the role of Lenore Doolan, a New York Times food columnist, in the romantic comedy.
Meanwhile, Angelina Jolie is the hottest mom in showbiz, according to a new online poll. The mother-of-six topped a survey carried out by MSN.co.uk to find Hollywood's sexiest parent, landing 29 per cent of the votes registered.
Halle Berry and Reese Witherspoon shared second place, ahead of Kate Winslet and Katie Holmes.
The full list – compiled to mark Mother's Day in UK on Sunday – is as follows:
1: Angelina Jolie
2: Halle Berry and Reese Witherspoon
4: Kate Winslet
5: Jennifer Garner
6: Katie Holmes
7: Gwyneth Paltrow
8: Cate Blanchett
Comments
comments