Prince William showed off his soccer skills in a game with schoolchildren yesterday.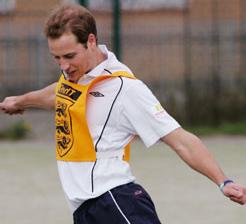 The 25-year-old prince sprinted up and down the pitch at Newcastle's West Gate Community College after scoring a goal as he played with youngsters to help launch a Football Association (FA) initiative.
An onlooker said, "He's a good player. In fact, he looked better than most of the England football players did when they lost to Russia on Wednesday."
Naseem Haqu, a nine-year-old, revealed, "I asked what he'd like to be if he wasn't a prince and he said a professional footballer. He also told me football's his favorite sport, and after that he really likes rugby."
The youngster added, "He's really fun when he's talking to you but I don't know why he supports Aston Villa. I wanted to persuade him to support Newcastle."
The prince, who wore tracksuit trousers, a yellow bib and odd socks for the match to launch the FA Hatrick Football Development Project, aimed at kids in disadvantaged communities. He is the FA president and avid supporter of Aston Villa, had earlier joined in a discussion on fair play with the young school pupils.
The prince also spoke to a group of teenagers who have gained coaching qualifications funded by the FA and BBC Sport Relief.
Comments
comments