Prince William turned up to a polo match on his beloved Ducati superbike, looking more rebel than royal.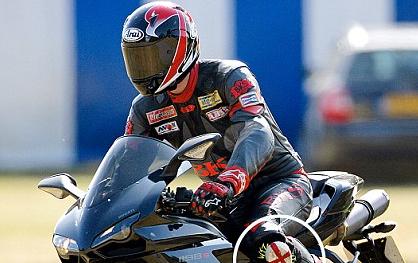 Clad in black leathers and helmet, he turned heads as he roared into the Coworth Park club in Ascot, Berkshire.
He did, however, give a nod to his role as future king by wearing patriotic knee sliders featuring the Cross of St George.
The £19.99 pads made by Somerset-based Wiz Racing would have protected the princely kneecaps as he slid along the ground when taking tight corners at speed.
After parking at the polo, the prince whipped off his leathers and swapped the bike for a less powerful mount.
He was playing in the Westbury Shield alongside younger brother Harry to raise funds for The Tusk Trust, an elephant conservation charity, and Sentebale, Harry's charity for African Aids orphans.
William, 27, is a fanatical biker who has been riding off-road since he was eight.
Last year he took part in a motorcycle rally across South Africa, where he said he loves the 'anonymity' a bike affords him.
His £15,000 Ducati 1198s – top speed 180mph – is considered
the 'ultimate' high performance bike and he often takes it out for a spin at weekends.
Police sources have suggested William is not averse to using the throttle and there have privately been calls from riders that accompany him to slow down.
Not that he appears to have taken much notice. There was no sign of the prince's girlfriend yesterday.
Last week Kate Middleton, 27, was seen at an exhibition in London, examining online technology on behalf of her family firm, Party Pieces, which sells party goods on the internet.
Comments
comments