Harry Potter star Daniel Radcliffe cuts a more manly, menacing and moody figure in the August edition of Esquire.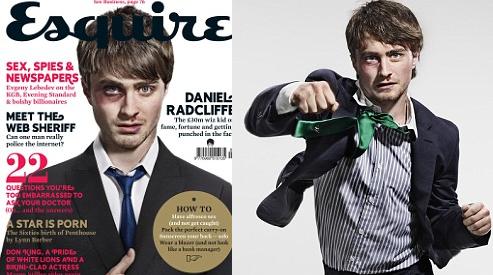 Dressed in a crumpled suit and sporting a bleeding nose and blackened eye, the actor swings a right-hook for the camera.
In another shot, the 19 year old dons and jeans, a tuxedo jacket combo and a wistful, far-off expression.
Perhaps he was pondering his £12.8m fortune – a sum that propelled him to the top spot in Forbes magazine's recent Rich Tween List.
Daniel – who was catapulted to global superstardom in 2000, aged just ten – is returning to the big screen on July 15, when the sixth Harry Potter installment opens nationwide.
Based on the hit JK Rowling book, Harry Potter and the Half-Blood Prince sees the boy wizard battle Voldemort – and share his first kiss with Ginny Weasley.
Off-screen, the actor has been single since splitting with his Equus co-star Laura O'Toole in January last year.
The premiere of Harry Potter and the Half-Blood Prince is taking place in Leicester Square on Tuesday.
Meanwhile, Daniel Radcliffe accepts he will always be known as Harry Potter.
The 20-year-old actor realizes he will never lose his association with the role as future generations will read the books and watch the films.
He said: "It's a bit like 'Withnail and I'. With 'Withnail and I', every year there is a group of students introducing the next lot to that film."
Daniel also admitted he finds it hard to distinguish between the 'Harry Potter' films, which will eventually total eight.
He said: "They blend into one. Even with different directors. But in terms of the people I see every day, not much has changed – make-up and costume has been pretty much the same right the way through. So it doesn't feel like huge amounts of change."
The sixth film, 'Harry Potter and the Half-Blood Prince', gets its worldwide premiere in London next Tuesday (07.07.09).
Daniel has revealed fans will see Harry mature and his relationship with his headmaster Albus Dumbledore will evolve.
He added to Australia's Sydney Morning Herald newspaper: "It has always been very much that of student and teacher. Now it is soldier and general. Probably the note I got more than any other on this shoot was a reminder of how high the stakes are."
Comments
comments