Prince William is reportedly set to attend this weekend's Glastonbury festival. The 25-year-old prince is planning on flying himself and four friends to the Somerset site in a private helicopter. However, Prince William, who is a trained pilot, will not be staying in a tent and has instead booked into an up market camper van.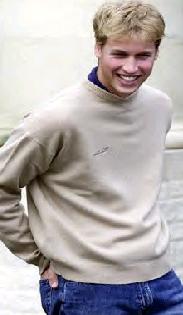 A source revealed, "As well as booking a very swanky camper van, they've already sorted out loads of booze which will be waiting for them, and they're planning to use a luxury barbecue too. They're even having some specialty ice-cream delivered."
With torrential rain expected over the weekend, friends of Prince William have planned a surprise for him – a pair of feminine Wellington boots.
The source added, "[Prince] William will laugh his head off because the lads thought it would be hilarious to give him some pink and orange wellies."
Acts that are expected at the musical extravaganza include The Killers, Arctic Monkeys, Amy Winehouse and The Who.
The prince is determined to celebrate his 25th birthday in style after spending Thursday completing his Army training duties at his Dorset barracks in Lulworth.
Comments
comments