A who's who of Prince William's friends has been compiled by Tatler magazine.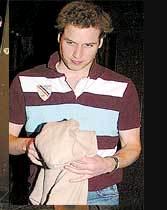 The magazine made a closest friends list of the 25-year-old prince in its October issue with a description "the jolliest court in history".
It names the group who were sat with 25-year-old William and his younger brother Prince Harry in the royal box at the recent tribute concert to their mother Princess Diana at London's new Wembley Stadium.
To be in "Wills gang" the magazines revealed you need to be nice, loyal and anti-drugs, a good horseman or woman, a conservative voter, have a strong drinking constitution, enjoy the countryside and generally be a "good egg".
Kate Middleton, the girlfriend of Prince William, tops the list of 'Love Interests' section, under the caption: "Still number one, this beautiful brunette has pushed the blondes aside." Isabella joined Kate Middleton in the list of 'Aristocratic Beauty'.
Comments
comments