Prince William will show off his new piloting skills when he puts on a show for the media on January 17.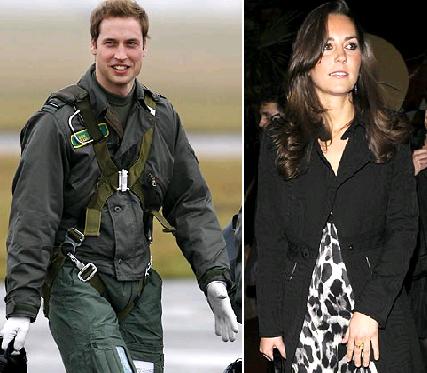 With an instructor by his side, Prince William looks relaxed as he sits at the controls of his RAF trainer. However, he was feeling rather less serene a day earlier when he was suddenly told it was time for his first solo flight.
The 25-year-old prince, who is on a four-month attachment to the RAF, was the first member of his 12-strong class at flying school to be allowed up without an instructor.
He passed the test comfortably. He joked, "God knows how somebody trusted me with an aircraft and my own life. It was an amazing feeling. Going solo is one of those things, if you had a list of the top 50 things to do before you die, it would be in there. I was doing a few circuits then Roger, my instructor, turned round and said: 'Right, I'm going to jump out now,' and I said: 'What? Where are you going' He said: 'You're going on your own,' and I said: 'There's no way I'm going to do that,' but he said I was ready for it and jumped out. The next thing I knew I was taxiing down the runway and I was sitting there saying 'Oh my God, this is a bit odd, there's no one in here'. Once I'd taken off it was fine, you do all the things you've got to do and fly the circuit. Then I was watching the runway getting closer and closer and thinking, 'Please, please don't mess this up'."
The prince was only eight days into his flying course when he was allowed to fly solo in a Grob 115E light aircraft, known as a Tutor, on Wednesday. Yesterday he was back in the air – with his instructor – above RAF Cranwell in Lincolnshire, where he is stationed with 1 Squadron of 1 Elementary Flying Training School.
Despite driving rain and wind, he even managed a commendable landing. During his course he is expected to serve on a nuclear-powered submarine. Terry Spurling, an ex-submariner and manager of Barrow shipyard, where the submarines are built, revealed, "I would think it is almost certain that he will spend some time on a submarine because they are the capital ships of today's navy."
Meanwhile, Kate Middleton didn't let her boyfriend's absence get her down last night as she stepped out with a group of close friends, including Prince William's close pal Guy Pelly.
The stylish 26-year-old was all smiles as she attended the preview of Afrika! Afrika! at the 02 Arena. The brunette beauty wore a slinky leopard print dress.
Comments
comments