For whatever reason, Princess Beatrice has decided to weave her chestnut locks into a fashionable frontal plait.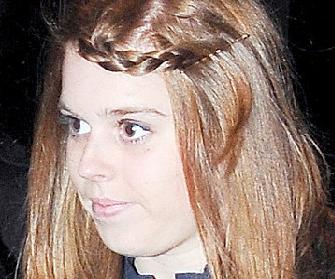 The princess premiered her new look at a party in west London with boyfriend Dave Clark.
Daily Mail fashion editor Natalie Theo was all in favor of the 20-year-old princess's tonsorial experiment.
She said: "You've got to hand it to Bea –she's clearly not afraid to have a bit of fun and try out a new look. [Princess] Bea is beyond trendy with this style … at the autumn/winter Topshop show all the models sported Mad Max braided hair. So technically speaking Bea is six months ahead of the fashion game!"
Princess Beatrice, 20, is studying the History of Ideas at Goldsmiths College in New Cross, an area of south-east London more associated with shocking British artists such as Damien Hirst rather than British royalty.
She paired her look with a black leather jacket with a gold zip and a blue top. She has drawn a line, however, at roughing it too much and lives in an apartment at St James' Palace rather than in halls.
Princess Beatrice recently became the first member of the Royal Family to appear in a feature film – Young Victoria, co-produced by her mother the Duchess of York – in a brief non-speaking role as a lady in waiting.
Comments
comments