Britain's Princess Beatrice has been spotted getting steamy with her boyfriend on a St. Tropez beach.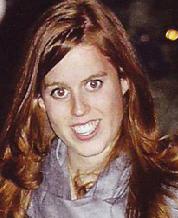 The 18-year-old princess, who wears only bikini bottoms with a towel wrapped around her top half, passionately kissed Dave Clark, in front of embarrassed holidaymakers in the sun-soaked French Rivera.
A spectator revealed, "Beatrice jumped on her boyfriend. They were all over each other. Nobody knew where to look. After five minutes of kissing, people started shouting, 'Get a room!' But the pair just giggled and carried on."
After her romantic clinch, the princess was spotted being given what appeared to be a stern telling off from her mother.
Her younger sister Eugenie is also enjoying the family break and is claimed to be accompanied by a young man believed to be her boyfriend.
Friends revealed that the princess is so "madly in love", she is even considering taking a year out before attending university so they can spend some quality time together.
Comments
comments