Reese Witherspoon and beau Jake Gyllenhaal take her kids, Ava, 9, and Deacon, 5, to the Elton John and Billy Joel concert held on Saturday night (August 1) at Citizens Bank Park in Philadelphia, Penn.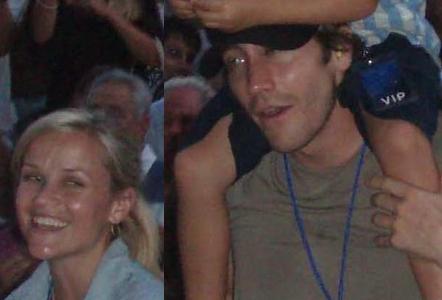 Deacon had the best view in the house, sitting stop Jake's shoulders. During the 3-1/2 hour show, Elton dedicated the song "Tiny Dancer" to Reese, saying, "Reese, this one's for you, girl."
The happy family danced to "Crocodile Rock" with Reese and Jake bumping their hips together.
Reese is in town shooting the not-yet-titled James L. Brooks movie.
Meanwhile, production stopped on baseball film 'How Do You Know' when one of the film's actresses went into labor during filming on Saturday.
Kathryn Hahn, who plays a pregnant secretary in the film, gave birth to a healthy baby girl on Monday, though she wasn't due until September.
The film, which also stars Reese Witherspoon and Jack Nicholson, was set to wrap up filming and Kathryn had only one-day of filming left.
Production will continue once Kathryn has recovered.