Last time she was snapped on the beach she covered up in a kaftan. But yesterday, Jessica Alba showed off her fabulous figure as she relaxed on the beach with her husband Cash Warren.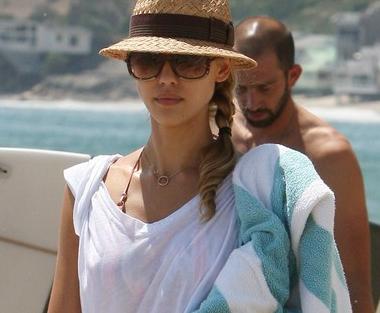 The 28-year-old actress, who had her first daughter last year, has absolutely no trace of mummy tummy – looking completely lean and trim in her striped bikini, which you could see her bikini pictures here.
The gorgeous couple hung out in the water, chatting and hugging, and then made their way up the sand for a spot of sunbathing.
The pair must have been taking a tiny bit of time off from being new parents as there was no sign of their daughter – 13-month-old Honor Marie.
A bit of beach time must have helped them unwind from their packed schedules.
Film producer Cash has just been filming in China and Jessica's schedule is packed at the moment.
This year alone, she has filmed roles in drama An Invisible Sign of My Own and murder mystery The Killer Inside Me.
She is currently filming her third movie this year, starring alongside Ashton Kutcher, Anne Hathaway, Julia Roberts and Jessica Biel, entitled Valetine's Day.
Writing on her MySpace page this month, Jessica also revealed she is working on a top secret project.
She said: "I have been working hard on a few new projects that I think you guys will hopefully love."
She added: "I am really trying to push myself beyond my comfort zone. Will come back soon and post more details."
Comments
comments