Fans of the Twilight series of books already know the role Edward Cullen plays in New Moon, but devotees are already curious as to how that will play out on screen with Robert Pattinson in the sequel.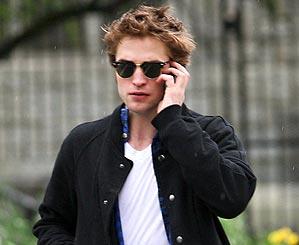 "It's very subtle," RPattz tells Entertainment Tonight of Edward's presence in New Moon, filming now in Vancouver. "It's actually quite scary because Bella is really going a little bit nuts."
Visit ETOnline for a sneak peek now, and tune in on Thursday for interviews with New Moon's Robert, Kristen Stewart and Taylor Lautner.
Meanwhile, "Twilight" hunk Robert Pattinson had bullying experience when he was in school. He admits that the experience made him scared. Becoming the target of bullying, the British heartthrob, who attended a school in London, rebelled against the school's rules and he was finally expelled from school due to his "naughty behavior".
"Someone stole my shoelaces once from my shoes. I still wear them and never put laces in them – they're like my trademark shoes now!," he recalls. "I got expelled from my school when I was 12 – I was quite bad. I never ever did my homework. I always turned up for lessons as I liked my teachers but my report said I didn't try very hard."
Comments
comments