Robert Pattinson and on-screen love interest Emilie De Ravin shoot new scenes for their new movie, Remember Me, at the Crestwood stop of the Metro North Railroad Harlem Line in Yonkers, New York on Monday afternoon (June 29).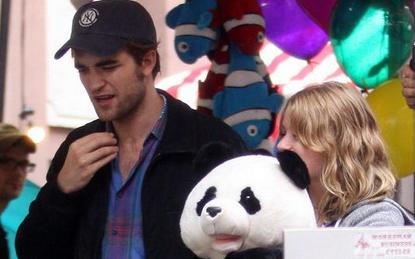 Rob, 23, was seen sipping on a cup of Dunkin Donuts coffee.
Robert Pattinson blows on his hot cup of Dunkin Donuts coffee as he heads to the Remember Me film set in NYC on Monday morning.
Remember Me centers on two lovers whose new found relationship is threatened as they try to cope with their respective family tragedies.
Another report revealed that on one of the breaks from the filming of Remember Me, the couple went to a fair in New York on the 24th of June.
The couple are always followed closely by photographers and body guards but managed to spend a nice day together during which Robert gave Emilie a nice gift. The New Moon actor bought an enormous panda bear for Emilie, and as you can see in the photos she loved it and looked sweetly most of the time at Robert.
Comments
comments