Robert Pattinson has gotten Kristen Stewart pregnant, according to a bombshell new report.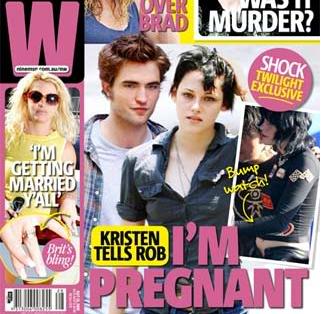 Kristen — who became romantically involved with Rob while filming the first installment of the Twilight movie franchise — discovered she could be expecting last week.
And Stewart, 19, was so worried someone would discover her secret she sent a close pal to buy a pregnancy test kit.
"Kristen asked one of her friends to buy the test because she was worried about someone seeing her at the drug store," a source told Australian magazine NW. "She's very nervous about the whole situation."
Kristen — who plays rocker Joan Jett in new movie The Runaways — first started to suspect she might be expecting when she realized she hadn't had her period.
"When she worked out she was late, she obviously started to thinking that she could be pregnant" says a pal. "And because of the timing, she thinks Rob could be the father."
The alleged pregnancy could be why Rob, 23, has been looking so stressed lately.
The actor is currently in New York, filming his new flick Remember Me.
And sources onset of the movie are apparently worried because Pattinson has lost so much weight.
"He's so skinny and stressed," a source told the New York Daily News newspaper. "Everyone on set is worried about him.
"Robert doesn't understand why everyone is going so crazy over him.
"He's embarrassed by the way girls throw themselves at him. The girls here are stalking him.
"He stayed in two different hotels over the course of four days just to try to escape the fans who were following him.
"He's afraid that if he gives a hand, they'll take the whole arm. He's being advised by security not to encourage the crowd, so he doesn't even look up anymore."
Comments
comments