Rihanna arrived for Independence Day celebrations over the weekend flashing daring silver sequinned nipple petals from beneath her gaping tuxedo jacket.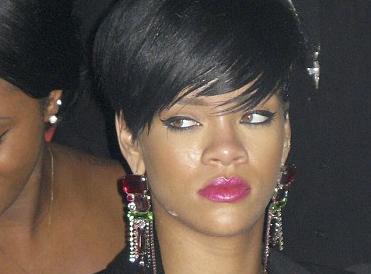 Far from being an embarrassing moment of overexposure, it was a very deliberate move by the bold Umbrella singer who seemed completely at ease in her most provocative outfit yet. You could see her picture here.
Rihanna was in Las Vegas to mark July 4 along with her mentor Jay-Z, who attended the party at Tao nightclub without his wife Beyonce.
The rapper is credited with giving the singer her big break by signing her to record label Def Jam and the pair are rumoured to be working on new material for her next album.
It has been a tumultuous year for Rihanna, whose former boyfriend Chris Brown was last month given a community service order and probation after pleading guilty to assaulting her.
Rihanna's father Ronald Fenty recently hit out at the sentence
'He should be in jail. Chris should have been sent to jail for what he did to my girl.
'He's got off lightly. Chris put her through hell,' he told People magazine.
Comments
comments