Robert Pattinson's first love was the girl next door – a leggy beauty who lived right around the corner from the Twilight hunk.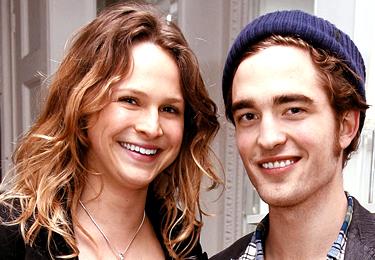 Blue-eyed blonde Nina Schubert was 20 when she hooked up with Rob, then 17, in 2003. The two dated for three years while Nina, who's a statuesque 5-foot-11, worked as a model, and Rob built his acting career.
But Nina's heart was broken when she and Rob split, and she now works for a slaughterhouse in New Zealand – nursing her still-passionate feelings for the movie heartthrob, friends say.
"Nina hasn't been able to get over Rob and shake the fact that she was his first love," a close friend said. "Over the past year, it really hit her hard when she saw him get famous.
"She realizes that she had Rob all to herself, but now he seems to be the subject of every girl's dreams and fantasies. She's still trying to come to grips with what happened between them."
Nina and Rob both lived in the London suburb of Barnes, and she was working for Select Model Management when she caught the future vampire king's eye, said the source.
"Even though Nina was modeling, she wasn't famous. She and Rob were able to do the simple things most young couples do, like walk hand-in-hand in the park and go to movies. They got to know each other without the world watching."
Nina soon landed a role in the coming-of-age film and appeared in the glam mags Vogue and Marie Claire. She also modeled swimwear and even posed topless.
"Nina and Rob continued to date as their careers took off. They moved in together in London and, for a time, they were the golden couple," said the friend.
In 2006, Nina was on Rob's arm at several London functions, including the launch party for the magazine Fashion Inc. and the Empire Movie Awards. But when Rob left England to film Twilight, they split up, said the source.
"Nina was heartbroken," said the friend. "She traveled to the South of France and fell for an Australian. They became engaged, but eventually split up."
Earlier this year, Nina moved to a small coastal town on New Zealand's north island to live with relatives. She now sorts boned-out meat on an assembly line of a slaughterhouse.
"Rob is still a really good friend of mine," Nina revealed. "He's…going to come here."
Comments
comments