Republican vice presidential Sarah Palin was hoping that Bristol and fiancé Levi Johnston will tie the knot soon after her daughter recently celebrated 18th birthday.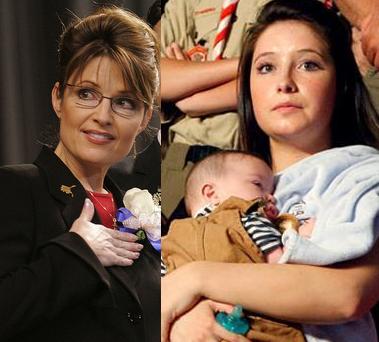 The vice presidential hopeful revealed: "Hopefully before that. Bristol turns 18 in a few days [Oct. 18]. That's what we wanted her to wait for: 18, and a decision on her own about how she's going to go forward, her and Levi, at this point."
Taking a break between campaign speeches in New Hampshire, Palin and her husband, Todd, both 44, spoke about Bristol, Tina Fey and sex education.
Here is the highlight of Sarah Palin's interview as she talked about politics, life with five kids and what's next for the Alaska governor, win or lose:
Do you two ever look at each other and just go, This is insane?
Sarah Palin replied: "I haven't had time to yet."
How did kids keep up with school while traveling? She answered: "They've been going back and forth and bringing schoolwork with them. Yeah. It's workin'. With our help and Grandma's and Grandpa's help."
Your crowds are adoring but the criticism is sometimes tough. Is it hard not to stick up for Sarah? Her husband Todd Palin revealed: "When you get into this business, it's expected. I do [feel protective] but it's just entertainment." Sarah added: "They take their shots; that's some people's entertainment."
Tina Fey's got you locked up. Who would play Todd? Sarah replied: "Tim McGraw. That's what they say back home, anyway. Some of the kids tell our kids, "Your dad, when he wears his hat, he looks like Tim McGraw."
On the type of things that the couple argue or bicker about back home, Sarah revealed: "We don't have a whole lot of time to argue and bicker. It's a team effort how we get from point A to point B every day with everything that needs to get done." Her husband added: "The normal challenges, it's the kids' schedules, where they go and who's coming over."
In normal times, who does what around the house? Sarah admitted: "Todd grew up helping to raise a lot of sisters and it was expected that he would be a helpmate to his parents and siblings. It's just par for the course now that he does as much as I do around the house. In fact you probably do more [laughs], with my busy schedule. Todd has an unconventional work schedule: gone summers commercial fishing and then week-on, week-off in his [oil] job. When he is home, he takes over." Her husband added: "I have to. If I don't then there's no Iron Dog [snowmobile racing], there's not all the good stuff."
Who's the better cook? Sarah answered: It depends on what we're cooking. I'm a better… Her husband added: "She's a good cook." Sarah also said: "I'm a better cooker. You're a better, like he can smoke salmon better than anybody else that I know. And can salmon. We eat a lot of wild Alaska seafood and we're trying different recipes all the time with that. You do a couple of those dishes better than I do."
On areas that she would like to discovered and study up on more[with national issues], she declared: "The overall mission here in a national campaign is the same mission that I was on in a state campaign and in my job serving the state and before that, in a local city campaign and in my job serving a community and that is making sure that the people who hire you are going to be put first in all the decisions that you make. Overall, it's the same mission that I'm on and in this case also it's supporting I think the perfect running mate, someone who is ready to lead our country through the economic crisis that we're in right now, lead us into victory in these wars that we're fighting. So same mission, that being serving the people who will hire us."
On the news that she heard from her son, who is currently deployed with the Army in Iraq, she added: "He's doing well. Not a complaint. I visited the troops over there, and I was so pleased and appreciative of our troops, my son included, where you don't hear them complain. You don't hear them complain about the heat or the dozens of pounds of equipment that they're carrying, none of the conditions that we would consider adverse and burdensome. I've never heard any of our soldiers complain and my son has been the same way in discussions with him."
For more information, get a copy of People magazine to read more of Oct. 15 interview on newsstands this Friday.
Comments
comments