According to women, Scarlett Johansson has the world's sexiest body. The blonde actress topped a poll conducted by women's magazine Glamour.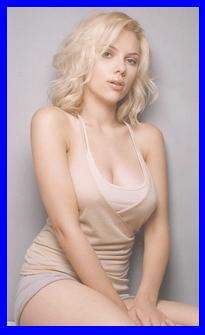 Glamour magazine revealed, "With curves to rival Marilyn Monroe, Scarlett embraces old-school Hollywood style and exudes body confidence. It seems that curves are in and size zeroes are not the most admired."
The magazine asked 5,000 women to vote for which female celebrity they thought had the sexiest figure.
Scarlett Johansson, the 22-year-old actress who posed nude for the cover of Vanity Fair magazine last year, revealed that sex appeal is all about confidence.
The actress revealed, "Sex appeal is something that comes out of you. You can force it, but to me what's really appealing is when someone just exudes sexual energy." She added, "Women shouldn't be forced to conform to unrealistic and unhealthy body images."
The List of Top 10 Sexiest Bodies:
1. Scarlett Johansson
2. Jessica Alba
3. Gisele Bundchen
4. Jennifer Aniston
5. Angelina Jolie
6. Mischa Barton
7. Rachel Bilson
8. Beyoncé Knowles
9. Jennifer Lopez
10. Kelly Brook
Comments
comments