Tom Cruise and Katie Holmes appear in black and white on split covers of T: The New York Times Style Magazine's "Holiday/Reinvention" issue.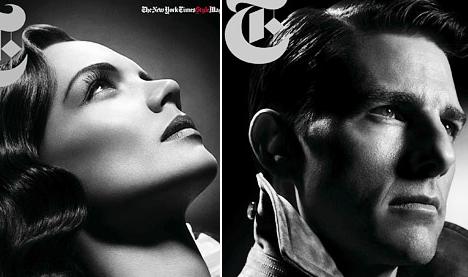 In the interview, the celebrity couple, which is also known as "TomKat," gushed over each other and talked about the speed of their romance to marriage proposal. Tom Cruise admitted that he fell hard for Katie Holmes.
Here are the highlights of the interview:
Tom on when Katie confessed to him that she dreamed of marrying him as a little girl: "I said I wouldn't want to disappoint her. I knew I wanted to marry Kate when I met her."
Tom on buying Katie an engagement ring shortly after their first date in 2005: "At one point, I thought she was going to ask me to marry her first and I put her off by changing the subject. I wanted to ask her."
Katie on being overwhelmed by Tom: "[I] admired him growing up. [After our first meeting, I was] completely in love. He was so warm, and I thought, 'Wow, you can be a superstar and a human being.' He made me feel so amazing."
Katie on life since her romance with Tom began: "My life has expanded. My family and friends are all a part of this bigger life."
On her reputation: "There's a misperception about me that I just became this wallflower, this woman who doesn't have any control of her life. And that's pretty wrong. From the very beginning, I've made choices in my life that have been very strong. "
On tuning out a lot of the chatter about herself and the outside world: "I have too much to do. I'm a mom and an actress with a play to do every night. I can't pay attention to all that noise."
The couple's relationship has been subjected to much scrutiny by public and media critics who have speculated their union was arranged and their romance is a farce.
But the "Mission Impossible" actor, who famously proposed at the top of Paris, France's Eiffel Tower, insisted that their marriage is the real deal and he has been in love with Holmes since he first set eyes on her.
Comments
comments