Oprah Winfrey felt that former vice presidential nominee Sarah Palin was snubbing her.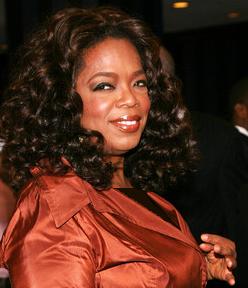 The talk show host revealed: "I said I would be happy to talk to Sarah Palin when the election was over…I went and tried to talk to Sarah Palin and instead she talked to Greta [Van Susteren]. She talked to Matt [Lauer]. She talked to Larry [King]. But she didn't talk to me."
But Oprah Winfrey doesn't think Sarah Palin will stay away for long as she explained: "Maybe she'll talk to me now that she has a [multi-million dollar] book deal."
Oprah Winfrey's book club propels novels onto bestselling lists.
If there is one guest that's always welcome, then Barack Obama seem to be the potential guest. Oprah Winfrey is even taping her talk show from Washington DC during Inauguration week as she shared: "There's always an open invitation for the president-elect and first lady."
She also shared her dreams of becoming a dancer after a few drinks, joking: "In my wildest, wildest, crazy, crazy dreams, I am a dancer. When I've, like, had too many tequila shots and I go to sleep, I dream of being a dancer."
Oprah Winfrey also revealed the one thing she had to rescue from her Santa Barbara, California home when it was threatened by wildfires last month: her book of letters from Alicia Keys, Mariah Carey and all the young women who attended her 2006 Legends Ball.
She added: "When the fires were coming and the flames were a blowin', I said, 'Get my letters!'"
Comments
comments