A friend of the celebrity couple Tom Cruise and Katie Holmes has revealed that the two stars are very indulgent when it came to the wishes of their young daughter Suri.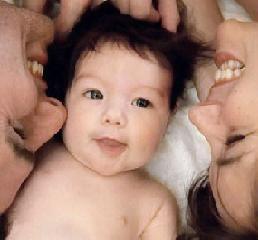 A source, which is close to the couple, describes how the one-year-old is being raised in a strict Scientological environment. The celebrity couple is committed followers of the religion.
The source reveals the baby is surrounded by fellow believers throughout the day, as she is too young to be enrolled in classes at the Scientology centre.
The friend of the couple also revealed that Tom Cruise and his wife are keen on raising their child to treat them as friends, apparently in line with their religious teachings.
He revealed, "Suri pretty much does whatever she wants, whenever she wants. If she fusses before bed, they let her stay up later. If they want her to go swimming and she cries, they'll take her out. If she whines about food, they'll ask her what else she wants to eat. They always want to please her."