Vanessa Hudgens, who was previously spotted at LA Fitness with her dad, was seen leaving her home in Los Angeles carrying a stuffed animal teddy bear and her iPhone last Friday.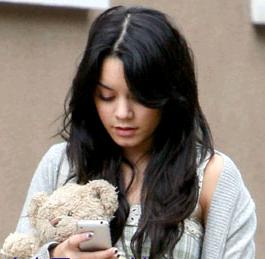 The "High School Musical" star appears a little shy but manages to show a peace sign to the photographers.
The 19-year-old singer-actress, together with her mother Gina, drove to Anaheim to meet up with her dad Greg and litter sister Stella after running a few errands, including a stop at her boyfriend Zac Efron's house.
Then the Hudgens family spent the evening at the Disneyland theme park. Several young fans recognized the young star as she snacked on a bag of cotton candy in the theme park.
Comments
comments