Hundreds of screaming fans welcomed Vanessa Hudgens and Zac Efron to Japan on a promotional tour for High School Musical 3.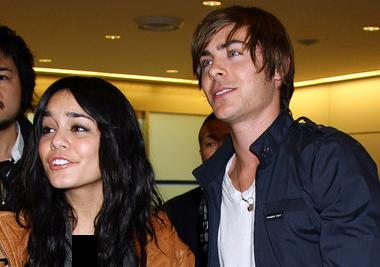 More than 30 police and security guards were deployed to manage the fans who thronged Narita Airport on Saturday, January 24.
"I've never seen anything like it," said an onlooker. "Their fans were screaming and some were crying because they were so happy to see them."
Vanessa wore an orange leather jacket over white asymmetrical top, light blue fitted jeans and a long grey scarf. She accessorized with black calf length boots with slant cuffs and a black leather tote bag. Her long dark hair was styled in a messy look to frame her face. She wore light makeup.
Zac and Vanessa will attend the Japan premiere for High School Musical 3 on Wednesday, January 28.
Comments
comments