What's new for the tandem "Zanessa"? Some reports revealed that Vanessa Hudgens and Zac Efron were having a very difficult time in their relationship over photo scandal. The celebrity pair was spotted recently emerged smiling and together in Los Angeles.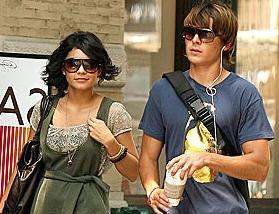 Back on the nude photo scandal, Vanessa Hudgens' wonderfully supportive mother Gina Guangco has stood by her daughter through the whole ordeal. And just weeks after her photo scandal broke the mom of the High School Musical star made a coffee run with her daughter in show of support.
Vanessa Hudgens and her mother, Gina Guangco was seen in Coffee Bean in LA on September 21 and the speculation is that she is there for her daughter and Zac and is giving them support any way she can.