After the series of speculation over the relationship of Angelina Jolie and Brad Pitt while he was still married to Jennifer Aniston, it appears that Angelina and Jennifer have more than Pitt's wandering eye in common they now share the title for the Most Powerful Actress awarded by Guinness World Records.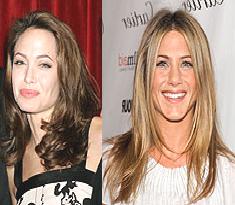 This can't be good for Jolie and her fans as they believe Aniston not to be even close to Angelina's self-appointed lofty status. But really – how does Jolie even rate at all – her last film "A Mighty heart" was an absolute bust. Reports claim an Oscar buzz for her role as Marianne Pearl gets her this tie.
Meanwhile Guinness has the usual suspects at the top spot for actors and for some really odd reason places Tom Cruise above Johnny Depp. That there makes this whole award seem a bit silly. Maybe they are just a year or so behind.
.
Comments
comments