Vanessa Minnillo got Nick Lachey and a wild hot tub and full frontal Mexican vacation for all to see. But it was only after Jessica Simpson dumped Nick and some believes that looking good is the best revenge.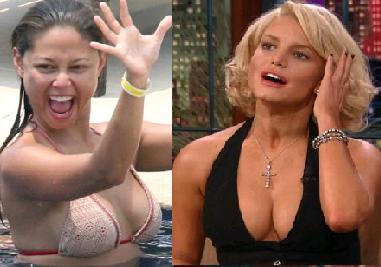 After breaking up with John Mayer, Jessica Simpson began dieting, training hard with Harley Pasternak and following his 5-Factor Fitness plan. Her ward work has paid off: She's lost 20 pounds.
As for her trainer, she revealed, "He's given me a butt. I have to do as many squats as I can to get a little booty."
The Dukes of Hazzard star is currently filming "Major Movie Star". The singer appears to be in better shape than before.
Vanessa Minnillo has workouts aren't nearly as intense as Jessica. Although the 26-year-old has a body a lot of women would kill for, she admits there's room for improvement. She revealed, "I want to work on my butt" and admitted, "It's hard to have a workout plan and have a trainer. I would love to have that motivation."
Meredith Miller, a trainer for The Pinnacle Challenge, revealed, "Jessica looks healthier all around. She has nice, lean muscle tone that show she trains frequently. Whereas Vanessa, who's not as toned, would benefit from strength-training."
Comments
comments