Kate Middleton, who received an invitation of Britain's Prince Charles' 60th birthday celebrations later this year, has a photo album that would embarrass her and will not be rushing to show it to the Queen.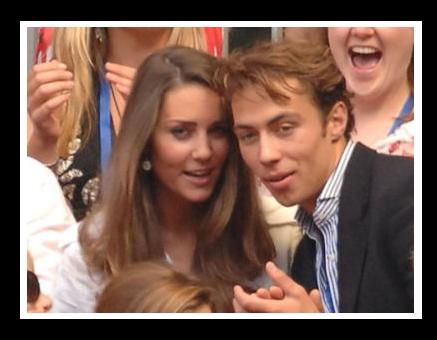 The flamboyant brother of Prince William's girlfriend is seen in a variety of compromising poses that are now all freely available for anybody to see online.
In one image, James Middleton is sporting a French maid's costume. The 21-year-old guy stares boldly at the camera wearing a fetching shade of fuchsia lipstick, along with ripped fishnets and a lacy cap.
Another photo shows James sitting in front of a fire, apparently [email protected], his modesty protected by what appears to be a row of towels. There is a bottle of beer in his hand.
In other photos, he is seen on a raucous night out with friends, with countless drinks lined up in front of them, and cavorting with a male friend holding his thigh. He also poses with a cigarette in his hand, resting his head against a block of wood alongside a friend.
The pictures, along with a barrage of criticism of 26-year-old Kate and her family, appear on the website of the internet forum.
There is even a poll of members, in which 78 per cent claim to be against Kate becoming the future Queen.
A lot of posts included some nasty remarks: "H*ll no! She would be a disaster! A lazy, freeloading disaster!"
"She doesn't work, hasn't worked, shows no incentive to actually do anything meaningful and productive. In doing this, it seems she thinks that she is above everyone else, including past princesses."
"She probably only wants a ring and to heck with the rest of it, jobs, image, career etc. I think Kate is a bit superficial."
Several compare Kate's looks unfavorably with those of her sister, with one saying: 'Pippa actually looks her age, whereas Kate can sometimes manage to look like she's pushing 40.'
The detail in some of the messages is astonishing, appearing to suggest that some of those posting know the subjects themselves.
In one, the writer says of Pippa: 'She's really been working on her cooking these days…she's become better than ever.'
One even alleges James himself has been on the message board to read what has been written about him, along with his mother Carole, or 'mama mids' as she is referred to.
Last night Pippa and Carole answered the door at the Middleton family home in Berkshire and accepted an invitation to look through the photos.
When asked whether they were photos of James, Pippa answered "yes" and smiled briefly as she flicked through them.
Comments
comments