Kate Middleton, who is believed to dislike her nickname "Waity Katie," could be waiting a very long time to marry Prince William for up to seven-and-a-half years to be precise.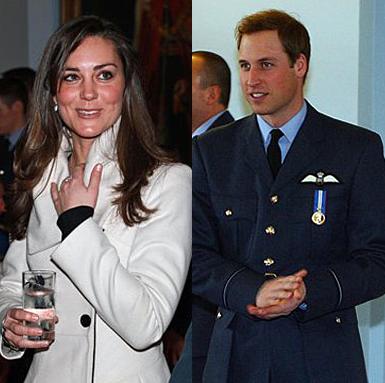 The 26-year-old prince, who wants to become a pilot with the RAF's Search and Rescue Force, will be asked to commit to six years' service on top of the 18 months he will spend training from January.
During that additional time, which is known as the amortization period, he is expected to put his military duties first, which means any marriage plans are likely to be put on hold.
Prince William must agree to stay in the RAF for so long to justify the £1million cost of his training, which will include flying a £25million Apache helicopter in a series of dummy missions.
A friend of the couple revealed that Prince William's surprise announcement last month that he wanted to join one of the six search and rescue teams based around Britain was sure to have an effect on his long-term relationship with Kate.
Clarence House also confirmed last night that a house that had been earmarked as a potential starter home for William and his bride would now be put up for rent on the open market.
A source revealed: "William still sees himself as very young and he's not in any hurry to get married. Next year was being seriously considered for an engagement, but the chances are William will wait until he finishes his training. That's when he and Kate will have a big decision to make. If he passes his training, then he has to commit to the RAF for six more years. He will have a choice of placements, but he will be away from London for much of the time and living in military accommodation."
The source added: "Kate will ultimately have to decide not only if she's happy to wait, but if she's happy to be a military wife. There's no doubt William is putting his career first. The last time he did that was when he was training with the Blues and Royals, and that's when they split. William's decision to join the RAF caught everyone at the Palace by surprise. It has thrown all the planning for a 2009 wedding into chaos. He is very headstrong to the point of being pig-headed. When he feels he's being pushed into something, he does the complete opposite. No one really knows what his plan is as far as marriage is concerned."
Friends say the couple, which has been dating for six years since meeting at St Andrews University, discussed marriage during their recent holiday to Mustique.
A friend revealed: "William assured Kate that she is the one and that they will marry but it may not be for a while, now that he is joining the RAF. After Mustique, Kate said they'd reached an understanding, and there was talk of an engagement announcement around Christmas. However that could all be revised now."
William and Kate have not been photographed together since August, when they were pictured leaving a Chelsea nightclub.
While the Prince has committed to his military career, Kate, also 26, seems to be addressing the Queen's private concerns that she should have her own career before an engagement is made public.
Last week, the website of her parents' mail order company Party Pieces announced that Kate was working as a full-time member of staff.
A flattering new black-and-white photograph was posted on the site featuring Kate, her mother Carole and a colleague named only as Vicky.
A friend said last night: "Kate wants the message out there that she is doing something with her life – hence the recent PR campaign about her job at Party Pieces. Both William and Kate are hoping that her reputation for being workshy will go away, but they have gone very quiet on the subject of marriage."
Comments
comments