Winona Ryder is at the center of a new controversy after reportedly losing $125,000 (#81,170)-worth of borrowed Bulgari diamonds loaned to her for an awards ceremony appearance in Spain.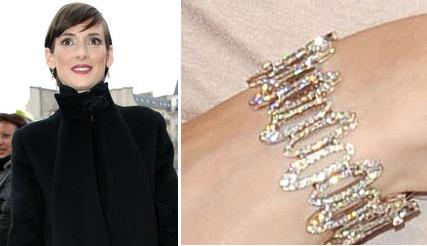 Police in Spain are investigating $125,000 in missing designer jewelry last seen on Winona Ryder at an event on Sunday.
Winona Ryder was loaned a Bulgari bracelet and ring, which she wore to a Marie Claire magazine party in Spain last weekend, but the jewelry has gone missing.
The actress reported the items missing after allegedly handing them in to her hotel's front desk in an envelope to be kept in the venue's safe.
A source revealed that the actress left the jewels in her hotel room the morning following the event. But, when someone was dispatched to collect the bracelet and ring, they couldn't be found.
The source added that even though Winona Ryder was arrested for shoplifting at Saks Fifth Avenue in 2001, the police are not considering her as a suspect in the jewelry case.
But according to French magazine Voici, the hotel bosses have not yet been able to locate surveillance footage to prove the actress' claims and Bulgari executives have now asked police to investigate the jewelery disappearance.
A spokesperson for the actress, who was arrested in 2001 for failing to pay for goods taken from Beverly Hills store Saks Fifth Avenue, has yet to respond to requests for comment.
Bulgari representatives have refused to address the reports or confirm the disappearance of the jewels.
The jewelry disappearance is the latest incident to make headlines from the actress's European trip. Winona was hospitalized in London on November 19 after becoming ill during her overseas flight.
Comments
comments