Britney Spears made her return to European TV screens on Thursday night, appearing at Germany's Bambi Awards.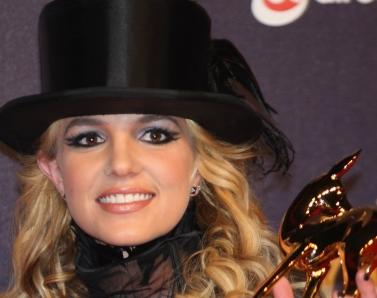 The pop singer was dressed in a top hat, fishnets and a figure-hugging black outfit as she performed "Womanizer" at the awards show where she was honored as Best International Pop Star, by the German media.
Fashion designer Karl Lagerfeld presented the pop princess with the statue, which resembles a shining gold deer, but it was the pop star's performance that attracted the most attention.
The performance, clips of which have already surfaced on YouTube, featured a host of "Circus"-themed dancers, who paraded around as Britney appeared in silhouette at the start of the number. Britney then walked through a ring of fire, hitting the stage looking as shapely as ever as she danced and strutted her way through the song, before ending it atop a metal globe.
On Saturday, Britney will appear on British TV screens, performing on Simon Cowell's "X-Factor," an "Idol"-like talent competition.
Britney releases her sixth studio album, "Circus," stateside on December 2.