Vanessa Hudgens and her boyfriend co-star Zac Efron appear to have emerged unscathed after photo scandals and split rumors.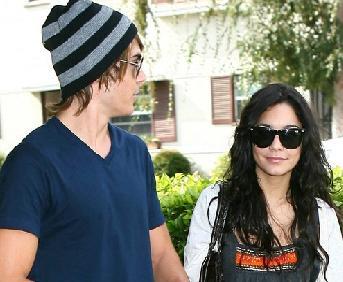 Zanessa, who is popularly known as Troy and Gabriella, are now back on top and ready to make their move by cashing in with millions for their roles in the sure fire big screen hit coming to a theater near you High School Musical 3.
A report revealed Vanessa Hudgens has landed her role with what is called a big raise. Zac is already locked in. According to a weekly magazine, the contract will be signed this week and Disney won't spill any details while they are still negotiating.
Vanessa Hudgens and Zac Efron was spotted at French bakery Chez Nous for breakfast in Studio City, California. The couple seemed to enjoy their sunny Sunday morning
Zanessa held hands and looked more in love than ever. Zac Efron, who wore his usual beanie, Ray-Ban aviator sunglasses, jeans, v-neck t-shirt and a pair of Vans. Vanessa Hudgens was sporting a white cardigan over her cute gray dress, brown sandals and Ray-Ban Wayfarers.