Zac Efron and Vanessa Hudgens got interviewed by Ryan Seacrest on the red carpet of the 81st annual Academy Awards, taking place at the Kodak Theatre in Hollywood, California on February 22.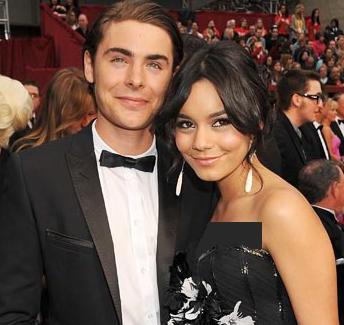 Young stars Zac Efron and Vanessa Hudgens were among the Hollywood A-list celebrities who rocked the red carpet of this year's Oscars. Seen walking separately, Zac was the first who got approached by E! Online's Ryan Seacrest for a brief interview.
Sporting a Dolce & Gabbana tuxedo, Zac finished off his look with a vintage Rolex watch. Asked about his scheduled performance for the opening of the prestigious awards event, which will see him joining the likes of Hugh Jackman and Anne Hathaway among others, the 21-year-old hunk admitted it was a huge honor for him.
Zac, still from the red carpet, also mentioned his favorite movies, "Milk" and "Slumdog Millionaire". He, additionally, talked about his own movie "17 Again".
Shortly thereafter, Ryan talked to Vanessa. The screen beauty wore a black Marchesa gown. "I'm in love with her," so she said about the fashion designer. "I just feel like the young Audrey Hepburn," so Vanessa gushed about her dress.
Meanwhile, Zac Efron will join Oscar host Hugh Jackman on stage later tonight for a special performance at the Academy Awards.
He revealed just moments ago on the award show's red carpet: "Yeah, well it's top secret so we're not supposed to talk about [that]. I don't know how it got out… We are doing a little something. We can't talk too much about it, but it's going to be a pretty fun show tonight."
Out of respect for the Oscar producers, Zac kept many of the details of his upcoming Efron-Jackman collaboration under wraps, but he revealed a little about the costuming – it will includes shirts.
"Mine's gonna be on," Zac told Billy. "I don't know about you."
When asked which gent the ladies will love more during tonight's telecast, Vanessa Hudgens, despite being Zac's paramour, remained neutral.
"I don't know. It depends if you like them old or young. Not old. He's not old," she laughed, referring to Hugh. "Older."
Comments
comments