Zac Efron was stunned to discover a deer chewing on his bedcovers.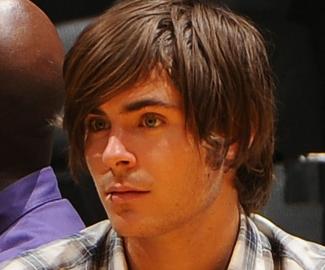 The 'High School Musical' actor – whose new Hollywood Hills home is surrounded by nature and wildlife – found the animal munching on his linen after he had accidentally left the doors to his bedroom open while having a shower.
A source said: "Zac has these special accordion-style doors in his room, and as it's so private he often leaves them open. He couldn't believe it when he walked into the room to discover the deer. Although he was a bit frightened the deer looked completely uninterested in him and just continued chewing."
Once he had overcome his shock, the 21-year-old star managed to lure the creature back outside by tempting him with some crunchy lettuce.
Zac splashed out on the "modest" £1 million house – which includes an infinity pool and views across the city – earlier this year.
Meanwhile, Zac Efron watches the LA Lakers defeat the Houston Rockets, 93-81, at the Staples Center on Friday (April 3) in Los Angeles.
On Wednesday, the 21-year-old actor shot shirtless scenes for a new FunnyorDie video at Hairspray director Adam Shankman's house in Hollywood.
The video, which was produced through Adam's Offspring production company, will premiere in theaters as a lead-in to Zac's new flick, 17 Again, out April 17.
Comments
comments