The results and the winners of 2008 Emmy Awards, which was held at Nokia Theatre on Sunday (September 21) in Los Angeles, were revealed.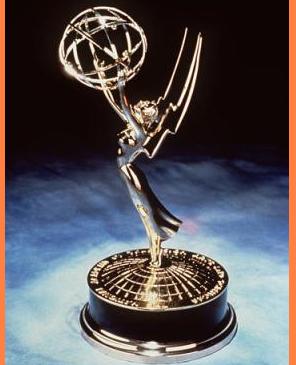 Tom Bergeron, William Shatner and Heidi Klum became the hosts at the beginning of the 60th Primetime Emmy Awards.
It is not surprising that the big winners at the 60th Primetime Emmys, which was an awards show that mainly celebrates acting and writing, would come from cable rather than from the broadcast networks.
The winners for the 2008 Primetime Emmy Awards are:
COMEDY SERIES: "30 Rock" (NBC)
DRAMA SERIES: "Mad Men" (AMC)
MINI-SERIES : "John Adams" (HBO)
TELEVISION MOVIE : "Recount" (HBO)
VARIETY, MUSIC OR COMEDY SERIES: "The Daily Show With Jon Stewart" (Comedy Central)
REALITY COMPETITION: "The Amazing Race" (CBS)
ACTOR IN A COMEDY SERIES: Alec Baldwin, "30 Rock" (NBC)
ACTOR IN A DRAMA SERIES: Bryan Cranston, "Breaking Bad" (AMC)
ACTOR IN A MINI-SERIES OR A MOVIE: Paul Giamatti, "John Adams" (HBO)
ACTRESS IN A COMEDY SERIES: Tina Fey, "30 Rock" (NBC)
ACTRESS IN A DRAMA SERIES: Glenn Close, "Damages" (FX)
ACTRESS IN A MINI-SERIES OR MOVIE: Laura Linney, "John Adams" (HBO)
SUPPORTING ACTOR IN A COMEDY SERIES: Jeremy Piven, "Entourage" (HBO)
SUPPORTING ACTOR IN A DRAMA SERIES : Zeljko Ivanek, "Damages" (FX)
SUPPORTING ACTOR IN A MINI-SERIES OR MOVIE: Tom Wilkinson, "John Adams" (HBO)
SUPPORTING ACTRESS IN A COMEDY SERIES: Jean Smart, "Samantha Who?" (ABC)
SUPPORTING ACTRESS IN A DRAMA SERIES: Dianne Wiest, "In Treatment" (HBO)
SUPPORTING ACTRESS IN A MINISERIES OR MOVIE: Eileen Atkins, "Cranford" (PBS)
INDIVIDUAL PERFORMANCE IN A VARIETY OR MUSIC PROGRAM: Don Rickles, "Mr. Warmth: The Don Rickles Project" (HBO)
REALITY HOST: Jeff Probst, "Survivor" (CBS)
DIRECTING, COMEDY SERIES: Barry Sonnenfeld, "Pushing Daisies" (ABC)
DIRECTING, DRAMA SERIES: Greg Yaitanes, "House" (Fox)
DIRECTING, MINI-SERIES, MOVIE OR SPECIAL: Jay Roach, "Recount" (HBO)
DIRECTING, VARIETY, MUSIC OR COMEDY PROGRAM: Louis J. Horvitz, "80th Annual Academy Awards" (ABC)
WRITING FOR A COMEDY SERIES: Tina Fey, "30 Rock" (NBC)
WRITING FOR A DRAMA SERIES: Matthew Weiner, "Mad Men" (AMC)
WRITING FOR A MINI-SERIES, MOVIE OR DRAMATIC SPECIAL: Kirk Ellis, "John Adams" (HBO)
WRITING FOR A VARIETY, MUSIC OR COMEDY PROGRAM: Tom Purcell, Stephen Colbert, Allison Silverman, Richard Dahm, Michael Brumm, Rob Dubbin, Eric Drysdale, Peter Gwinn, Jay Katsir, Laura Krafft, Frank Lesser, Glenn Eichler, Peter Grosz, Bryan Adams, Barry Julien, Meredith Scardino, "The Colbert Report" (Comedy Central)
Comments
comments