Hannah Montana: The Movie has hit theaters. The Disney Channel series that began in 2006 is finally getting its cinematic sendup.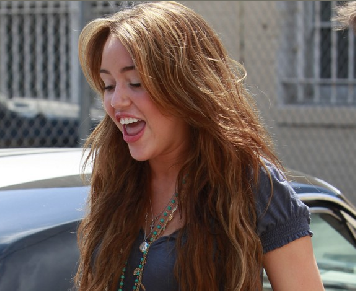 On the movie plot, Miley Cyrus revealed: "We're supposed to be in Malibu, I'm going to school and I'm living the Hollywood life and everything. That begins to be a problem, so we come back to Nashville, and we're home."
Here are the seven secrets from the flick:
1. TAYLOR SWIFT GOT HER ACTING BREAK IN 'HANNAH MONTANA.'
Although the Love Song singer has appeared on CSI, Hannah Montana: The Movie was actually the first role she ever filmed.
"It feels good to be in the Hannah Montana movie, especially because I don't have to do much acting because I'm playing myself," Taylor, 19, tells me. "I thought it was cool because that's my first experience ever with a major motion picture. It's good to ease your way into something like that."
It's no wonder Miss Hannah Montana picked Taylor for the plum part.
"I've known Miley for a long time, and knowing her, it's just so refreshing that she's not jaded by having to be in an adult world," Taylor tells me. "She's still a kid."
2. WIGS, WATER, OH MY!
Behind the scenes of Hannah Montana: The Movie, things aren't always what they seem.
"I have five Hannah wigs," Miley says. "I have a long one, another long one, a medium one, a short one and a black wig too. Once in awhile I go upside down and it'll come off. We glue them down. Yeah. We wash them. It's like real hair. It's from a person. It's a natural thing. They have all sorts of wigs."
Lucas Till, 18, who plays her onscreen boyfriend, says the watering hole scene was most difficult to film.
"It was like jumping into a bag of ice, and then I had to act like I was happy to be there," he tells me during a Hannah Montana memorabilia donation held at NYC's Planet Hollywood Times Square this week. "It wasn't all that fun. It was cold, and it was in the summer too. That was not a fun experience."
3. MILEY SCARED HER ONSCREEN BOYFRIEND SILLY.
Lucas was in fear for his life when he went off-roading with the teen princess during some downtime on the Tennessee shoot.
"We went to Miley's house," he tells me. "She has property out there, and she will drive the off-road vehicle and will not let you drive, and will almost kill you. We did a lot of that, almost dying."
He continues, "I remember my dad came to pick me up one night, and all he could see is the headlights, and the headlights were spinning. He was wondering what happened. She actually spun out a couple times. She was going so fast, and she tried to stop and turn. Yeah, she's crazy."
Lucas tells me she never needed to be rescued, but had a few close calls.
"She called me one time asking for help – advice on how to get out of a sticky situation. Apparently she had gotten stuck out there, but she didn't need a rescue. She figured it out herself."
4. THE MOVIE WAS ALMOST SHOT IN LOUISIANA, NOT TENNESSEE.
It may seem obvious that Hannah Montana: The Movie would be filmed in Tennessee, but it was actually a tough sell.
"When I read the initial script, it was all about me bringing Miley home to Tennessee, and we were going to go film it in Louisiana," dad Billy Ray Cyrus, 47, says. "To me, that was a red flag. I called a few different people, and I said 'wait a second, I feel that Tennessee is the right place to make a movie about coming back to Tennessee.' I'm not making this up. I'm like, 'every place I read in this movie is within seven miles of my house.' They said 'take some pictures.' So I took a few pictures. The pictures of Leiper's Fork and Thompson's Station were the ones that sold them on it initially. They said 'we'll fly someone there to see it firsthand.' I said, 'you come to Tennessee and Tennessee will sell itself.'"
Billy is in awe about the turns his life has taken.
"There's no way you could make this stuff up," he says. "I'm living in front of the world exactly what my life is. It's a bizarre time for me in my life, but I've always said it's about being real."
5. MILEY AND BILLY RAY HAVE A SPECIAL RELATIONSHIP.
Playing father and daughter onscreen and in real-life may seem like Miley gets a lot of dad time, but he's careful not to smother her.
Billy says, "I've always tried to be her best friend and that's what I continue to do now. She needs her space to do her thing, but I'm always there and I'm always a phone call away or a text. She always knows if she needs me, I'm there."
Billy realized his daughter had something special early in life. "She's always been really quick," he says. "I've always found it extremely funny and I am the butt of her jokes.
Lucas agrees. "Their relationship is pretty funny. It's like watching a TV show. They have very distinct personalities, and they don't change much. To see them interact is funny."
6. DURING THEIR DOWNTIME, THE CAST SPENT TIME TOGETHER.
It wasn't all work and no play for the stars of Hannah Montana: The Movie. Miley showed them around her hometown.
"Downtown Franklin is a small town, and you get to see what it looked like a couple decades ago," Lucas, who counts sweet tea and Chick-fil-a amongst his Southern faves, says. "It was really cool."
Emily Osment, 17, who plays Miley's best friend, also enjoyed the working vacation, but she could've done without the bugs.
"I sat by the pool all day reading I Am The Cheese by Robert Cormier," she tells me during a Hannah Montana memorabilia donation held at NYC's Planet Hollywood Times Square this week. "It was a nice little short read. It was good. I might have been reading the Twilight books at that time. I read a lot. I'm a big reader, so I take my book out to the pool and just read and read with Jason [Earles] and Miley. It was so nice to sit by the pool and relax and have the best time, and then go to work for a few hours in the morning."
7. MILEY LIKES BEING A ROLE MODEL.
Miley doesn't mind being in the spotlight, even though her most personal foibles become public fodder.
"It's so fun to see that little girls are looking up to me and saying 'when I grow up, that's who I want to be like,'" Miley says. "That's so cool for me. That shows to the little girls that it's cool to be a good girl."