What are the chances that Tom Cruise may not be the father of Katie Holmes' daughter Suri?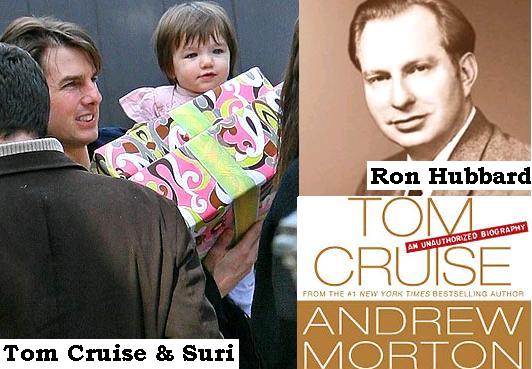 According to Andrew Morton, Katie Holmes could have been impregnated with the frozen sperm of the founder of Scientology.
In Andrew Morton's explosive new tell-all book, which has enraged Actor Tom Cruise, the author makes many claims that baby Suri may have been a 'Rosemary's baby'.
Tom Cruise may be preparing a multi-million dollar lawsuit against Morton for his shocking claims.
According to a report, Andrew Morton's unauthorized book claims Cruise, 45, is second-highest leader in his controversial Church of Scientology, and speculates 20-month-old Suri Cruise may have secretly been fathered by late church founder L. Ron Hubbard. London's Daily Mail published book excerpts in which Morton, without citing sources, says fanatical Scientology insiders wonder if third wife Katie Holmes "had been impregnated with Hubbard's frozen sperm."
Andrew Morton wrote: "In her more reflective moments, Katie might have felt as if she were in the middle of a real-life version of the horror movie 'Rosemary's Baby,' in which an unsuspecting young woman is impregnated with the Devil's child."
Paul Bloch, Tom Cruise's spokesman, said, "The book is a vicious and false attack on a man, his religion and his family. I find it disgusting and sick that this author would compare any child to 'Rosemary's Baby.' The author never interviewed anyone close to Tom Cruise. If they had, there would have been no book to be written."